Nor-Cal ChevelleCaminos
THE 1964 CORSELLE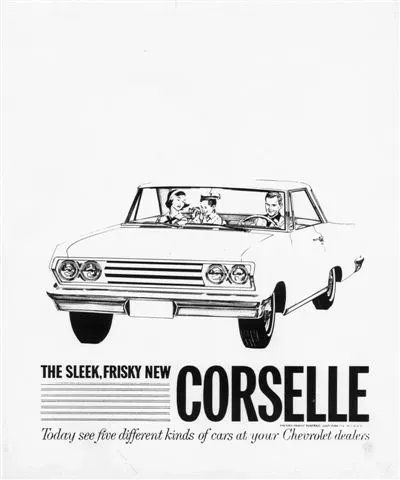 The Chevrolet Motor Division began working on an intermediate-size automobile in 1960-1961, with delivery to dealers to begin in September 1963. The name of that car was the Corselle.
The Corselle design team was sworn to secrecy about this project, and all advertising documents were highly protected by Chevrolet. No Corselle information could even be "leaked" to the media.
But, after 40+ years of unavailability, we've been able to secure these original documents and can show you what Chevrolet had up their sleeve (so to speak) all those years ago!
If you look closely at the Corselle advertising, you will see that in its infancy, the front of the car looked like the Chevrolet Impala, and the back looked like the Chevy II.
The Chevrolet Motor Division worked on Corselle development and advertising for nearly two years before changing the name to Chevelle and radically changing its design.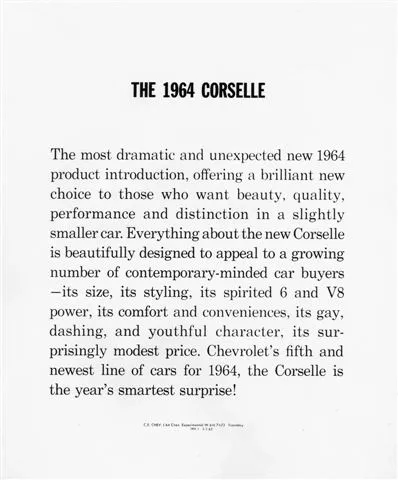 Chevrolet's newest line of automobiles was going to be intended for "contemporary-minded car buyers." It boasted a "V8 engine, youthful character, and dash." And we at Nor-Cal say, "Thanks for the memories."
This picture of Corselle was taken by Campbell-Ewald. Note that the license plate says Chevy II. Chevrolet went to all efforts to keep their new model secret.
We hope you enjoyed this bit of Chevelle history. Special thanks to Club member Jay Ball for providing the original documents.